This is a little delayed, this post about release 4 and stuff. Only excuse I have is that things have been crazy busy packing and shipping orders for R4. Which is a good thing.. to say I am pleased with the reaction and support from the world about my prints is an understatement. Thanks World. I am not very good with people, and I do not really have a lot of interactions or communications with folks. So I really had no clue how my prints would be received or how people would even find out about them (I don't work well with galleries or wholesalers or anything, so it's just all on my little website). Luckily / providentially / remarkably, there has been a handful of people with excellent taste who have connected with my work and told their friends.
To have my prints be related to and understood and appreciated enough to purchase is pretty incredible. I do not spend a lot of time explaining each piece or the whole point of Clockworks with a bunch of confusing artists statements. Instead I endeavored to make something immensely accessible and personal. Something that maybe would connect with people. The fact that my subject matter is robots is not at all the key facet to the series. The robots are just a useful tool in expression. To me the key is the viewer, participating in the work through identifying with it. Hopefully Identifying with universal experiences in the human condition. The juxtaposition with the natural environments and the clockwork robots highlights this. But at the same making something whimsical and pleasant to experience, whether you are young or old - fancy or not. Plus robots are pretty great.
It's fantastic to have all restraints on my work removed, not having to answer to a design firm, apparel company, production group or even audience. Nothing derivative or culturally savvy. To just do something without a target demographic without expectations or limitations is truly rewarding in itself - I had no idea.
I am happy with the series, very happy. I am also so FREAKING EXCITED for what's coming next. Sure I am going to be putting out some individual stuff in the near future - and some collaborations with amazing artists that are going to be rad. But also 2014 will bring another AP series that I am super stoked about. I promise to revisit clockworks years down the road - but for the time being the robots are going to be just hanging out.. doing their thing. And It will be nice to draw something different. Show folks out there AP is not just sprockets, gimbals and glass domes.
After printing and packing and shipping hundreds of prints, I feel like a veteran. It is pretty much all I do. I have a normal job, and after work and on the weekends I am just in the AP studio proofing, etching, printing, packing, working to the wee hours of the morning every night doing this. It brings me joy and works well with my reclusive obsessive personality.. really well. Add in the understanding and support of my wife and kids who have been really amazingly patient and helpful. It would have been impossible otherwise. At my best I am difficult, at my worse I am a total mess.
I finally got the swag all sorted, buttons, stickers, printed cards, swag bags, mugs, shirts, all sorts of cool stuff. When I get something in the mail, I really appreciate the little cool stuff - I like getting something that has added touches of magic. And I aimed for that with each release. My goal is for people who drop their hard earned cash on my work to get a little celebration in the mail. something that will make them smile.
I am rambling, I can't help it. there are all these little kinda specific things I want to mention. Like the fact that the successes of the clockworks series, and every dime it has earned is being re-invested into Antiquated Press. How you ask? (I am now rambling and talking with imaginary readers) well I do not want to get into details yet.. but in the next couple months the impact of Clockworks and its success will be revealed. And everyone out there who bought a print will see what they helped make happen. Its all very exciting I promise.
About the lost print. it is used as the banner on the editions page. It shows the CW robots meandering off into the distance, traveling. This print was intended to be the last of the series. And in a terribly sad series of events the original plate was destroyed. It was replaced with Climb, the print that pretty much represents frustrating struggle.But I am probably going to be offering the lost print up as a digital Print available through the AP society 6 shop. I will post about that when I do.
Some cool stuff about the release: Orders were the highest EVER for release four. Orders were 2-1 international. And we shipped to some crazy remote countries and addresses I would be hard pressed to pronounce. We have done our best to keep international shipping as affordable as possible - and it has made a big difference I think. Some super fancy customers too, so that's neat.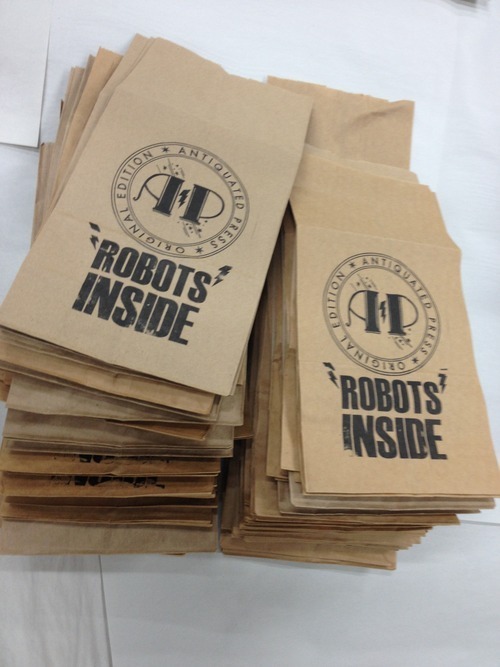 we are also doing a huge giveaway for our supporters, fans, and broke artists who want prints. Giving away prints, mugs, shirts, all sorts of cool. All you have to do is sign up for our all new newsletter. by following this link: http://eepurl.com/ImNQP or going to the official facebook page I promise NO SPAM. And I will be sending out free crap to my newsletter people. Lord knows anyone who would sign up for my newsletter is kinda weird, more than likely awkward. AKA my favorite type of people (all 14 of you)
The stop motion animation for stars was a huge success. it has gotten a bunch of great feedback and featured on printmaking news sites and blogs. if you haven't watched it - check it out  http://vimeo.com/user22185711/apstars
Um, I guess that is all for now (or rather ENOUGH.. I tend to ramble and could really go on and on)… except to say that if you are a customer. Please be in touch. I have only had ONE order get a damaged tube in the mail which I promptly sent replacements. So please keep in touch and let me know if there are any questions, concerns, shipping delays or damages. Also send me a photo of your print if you want. We have gotten all sorts of great photos and seeing my work in the wild is so damn cool.
Thanks,
Your Pal, Joe